Medical Physics & Dosimetry Services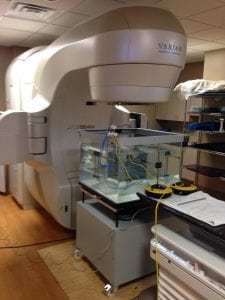 The Chief Medical Physicist & RSO for RDMP® is a Diplomate of the American Board of Radiology (ABR), Fellow of the American Association of Physicists in Medicine (AAPM), Fellow of the American College of Radiology (ACR), former regional President of the AAPM, U.S. Nuclear Regulatory Commission (NRC) approved as an Authorized Radiation Safety Officer (RSO) and Authorized Medical Physicist (AMP), and currently a veteran Accreditation Site Reviewer for the American College of Radiology (ACR) as well as for the American College of Radiation Oncology (ACRO). He has a broad knowledge in all facets of cancer treatment using radiation from particle accelerators, cyclotrons, teletherapy irradiators, and radioactive material as it pertains to treatment and research. He has accumulated 20 years of clinical experience.
Medical physics consultations generally include vault shielding design and radiation surveys, particle accelerator acceptance testing, calibration, commissioning, and quality assurance development. External beam treatment planning including VMAT (RapidArc), IMRT, SBRT, SRS, SRT, Gating, and conformal treatment with calculations and measurements are possible on-site or remotely along with general chart checks, etc. For brachytherapy procedures, radioactive license production, radiation safety, treatment planning, calculations, source shipping and receiving, source assay, implant management, and RSO duties are available. Remote chart checking and treatment planning are optional services for any center.
To learn more about the company or to discuss new cases or projects, please contact us via the web form or give us a call at 812-557-0234.